The Ranting and Ravings of a Certified Crazy! (and maybe a few semi-crazy pals)
Everyone hears other voices, don't they?
Primary topics are: Military and Veteran issues, Defense against Islamic Imperialism, and Illegal Immigration.
Occasionally other topics will pop up, just because.
FTM2 "Ponsdorf, Zero"
Blue Water Navy 1963-1969
Yankee Station, SAR,
Operation Market Time support,
Shore Bombardment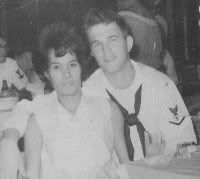 "Zero Ponsdorf" was born and raised in West Virginia. He joined the Navy Reserves between his Junior and Senior year in high school (1963). Since his father was KIA in Korea he wouldn't have been drafted, but wanted to 'see the world' anyway.
Following high school he went to FT/A school at the Great Lakes Naval Training Center and then to the USS England DLG-22, the first of four ships on which he served. Others were the USS Parsons DDG-33, USS Worden DLG-18, and the USS Mahan DLG-11.
"Zero" made 4 visits to the Gulf of Tonkin, each about 6 months long. The duty while there was varied, from picking up downed aircrew to firing shore bombardment. During rescue missions it was not unusual to exchange fire with North Vietnamese shore batteries.
He was discharged in May, 1969 as an E-5.
After his discharge Zero held many jobs, from driving a cab in San Diego to working for NASA at the tracking station on Kauai. While with NASA he worked on the first nine Shuttle missions.
Now Zero has settled in on his piece of ridge in central West Virginia. He does a little consulting work with computers, and some minor web work for friends.
Zero has been Blogging since 2004.
——————————————————————
OWB gained that moniker in 2007 while involved with the Gathering of Eagles group.  It's a long story, but the B does not stand for Brother, and it had nothing whatever to do with age or ethnicity.
OWB's military career was entirely within the Air National Guard and included a short tour during Desert Shield/Desert Storm/Desert Shield to a fairly culturally tolerant country whose environment was utterly hostile.  But the artificially irrigated fresh vegetables were superb.  So, while not on the front lines, OWB was close enough to receive hazardous duty pay and may or may not have been within SCUD range for part of the time.  Think of a very long runway able to support dozens of C-130's.
Since retiring in 2004, OWB has joined other veterans in actions we see as our obligation due to the oaths we took.  And to compare notes on the assorted voices out there.
Trivia which might explain some of OWB's behavior include having been an Army brat, growing up around airplanes, soloing in an Luscombe, being an E-5 three times in her military career with no disciplinary action, and having a penchant for working in odd civilian careers.